Join Jennifer Andrews for July Holiday Zoom Drawing Classes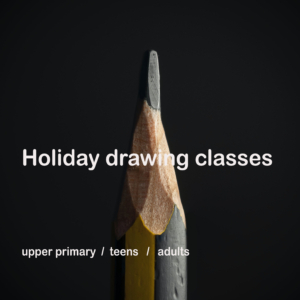 With many people still in lockdown or avoiding crowds, Zoom art classes offer an attractive alternative to 'in person' art classes. It's a great way to gain skills and connect with other like-minded people. You will be engaged in drawing in an interactive learning environment with the tutor.
Brizart is offering a series of Zoom drawing classes on Tuesday 7 July, Wednesday 8 July, and Thursday 9 July. Classes run from 10.30 am to 12 noon AEST (Brisbane, Australia).
These classes will suit upper primary, teens, and adults – really anyone who just wants to learn to draw in a supportive environment with an experienced tutor.
Jennifer Andrews will be your tutor. You can see her work on her website , on the Brizart website, and on Instagram.
Jennifer brings a broad range of drawing skills, a deep level of expertise, and lengthy teaching experience. Jennifer delights in sharing her expertise and insights with her students.
There will be tutor-lead discussions and demonstrations with lots of hands-on drawing for class participants. The tuition comes direct from Jennifer's studio to yours via Zoom.
Classes sizes are limited.  BOOK NOW
What do you need: Pencils, paper, eraser and pencil sharpener. You need a table to draw on and a place to put your computer, tablet, or another digital device for Zoom where you can easily see and hear it and so that Jennifer can see you.
Jennifer will be using B, 2B, 4B, and 6B pencils, a good quality pencil eraser and A3 cartridge paper.
However, you can start with whatever you have. If you can't get out, either because you're in lock-down or otherwise, then use what you have. If you don't have a good range of graphite pencils, consider using a dark colouring pencil, as this will also give a good range of tones. If you can't get anything more, just turn up with whatever drawing materials you have to hand. Computer paper is ok too.
Jennifer looks forward to seeing you in class and sharing her drawing expertise with you.
https://brizart.com.au/wp-content/uploads/2020/06/Brizart-Brisbane-Art-Classes-e1591951369869.png
0
0
Jennifer Andrews
https://brizart.com.au/wp-content/uploads/2020/06/Brizart-Brisbane-Art-Classes-e1591951369869.png
Jennifer Andrews
2020-07-02 17:23:32
2020-11-27 07:39:59
Join Jennifer Andrews for July Holiday Zoom Drawing Classes